Welcome to Creeds ..!
After the big success of all the Predecessor of Creeds' Rom Version now Comes Up Creeds' Fusion v3.0
Screenshots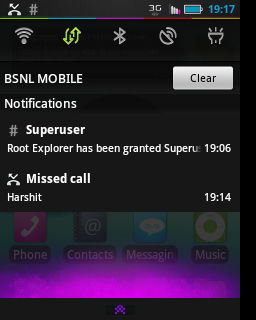 ChangeLogs
ROM RELEASED v3.0
ROM RELEASED v3.1
ROM RELEASED v3.2
Wats in Creeds' Fusion v3.0??

Basic Features Like:
-Root-(SU Access)
-Deodex
-ZipAligned

Other Stuffs:
-

Creeds' Home v2.0 ~Hot


5 Docks
Auto Alphabetical Arrangement
4x4 Icons on one Page of Menu
(So You Get Total Of 21 Apps on one Page Instead Of Stock 16)
Infinite Home Screen Loop Removed
Upto 9 HomeScreens
Page Indicator At Bottom
Whole New Touchwiz UI
List View
Apps Background in List View

-System Themed Lunar UI
-Other Icon Packs of Lunar UI

-

Swipe to Remove Notification


-Custom Bootanimation Enabled
-Creeds' Signature Animations and other UI's
-

Transparent UI Look


(You Can see Live Wallpapers/Wallpaper behing all apps)
-Transparent Lockscreen

-

Status Bar Mods (Use EDT App)


Change Clock Colours to your wish
Change Battery Style to Your Wish
Battery Percentage Optional
Add Your Custom Text On Status Bar

-

Lidroid 14 Toggles


Use Quickpanel Settings to Toggle and Change Sequence (Optional,not included in rom)
Enabled Overscroll Mod in Toggles Area
Smaller Toggle area with no text or indicators like Cyanogen

-Using MIUI Music Player
-Keyboard Bug Fix from version 2.5 on transparent UI
-Smooth Scroll
-Minor Bloatwares Removed




Changes in Fusion v3.1



-This is a Common Bug Fix Update of 3.0 .Dont Update if You Dont Have any Problems Using v3.0.
-Apps Top Borders Fixed
-3x4 Keyboard Fix
-Added ICS Keyboard
-Some more, dun remember now





Changes in Fusion v3.2



-Creeds Parts

~Hott



-Battery History,Information & Statistics via Creed Parts
-FlipMute for Incoming Calls via Creed Parts
-Window/Transition Animation Speed Set & Font Size Selection via Creed Parts
-Status Bar Toggles Selection/Order via Creed Parts
-Samsung Secret Codes , Startup Manager System App Mnager via Creed Parts
-Lockscreen Selection via Creed Parts
-Unlock Via Menu Key via Creed Parts
-Lockscreen Gestures and Custom Apps On Lockscreen via Creed Parts

-

15

Status Bar -Added Wifi Hotspot

-

8 Lockscreen

Mod including:
CyanogenMod Sliding Tab Unlock
CyanogenMod Ring Unlock
CyanogenMod Lens Unlock
CyanogenMod Rotatory Unlock
CyanogenMod Rotatory Revamped Unlock
Samsung Circle Unlock
Samsung Sliding Tab Unlock
Samsung Circle Unlock

-

Smooth Scrolling

(Scrolling Cache Disabled)
-Creeds Home Improved
-Some Bloatware Removed
-Download the Rom zip File
-Copy it to Sdcard Directly
-Power Off the Phone
-Boot into recovery by pressing (Vol. Key Up + Home Key + Power Key)
-Do a Data RESET
-Select Install Zip From SdCard
-Choose the rom zip
-Install
-Reboot to the Fusion !!!!
Downloads
Creeds' Fusion v3.0 : HERE
Creeds' Fusion v3.1 : HERE
Creeds' Fusion v3.2 : HERE
Before Downloading Creeds' Fusion v3.2 Read This:
Bugs in This Rom:
1.Status Bar Signals Arent Properly Shown
2.This Is a bit Major Problem(will be Sorted Soon)
   -Problem Lies With the LockscreenMod
   All 3 Lockscreens From Smamsung Runs Fine
   But When You Connect USB With any of the 
  CyanogenMod Lockscreen Phone Hangs Badly 
  and then Requires a Reboot.
   USE AT OWN RISK
Patches



1.AOSP Lockscreen : Here