Introduction
Tablets are basking in well-deserved attention and manufacturers know they need to try hard and make their devices distinct and memorable. Truly unique gadgets are hard to come by these days - especially in Honeycomb land. Which is perhaps part of the reason why iPad is still the one to beat. The Samsung Galaxy Tab 10.1 3G is in for a challenge, and up for it.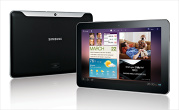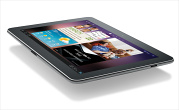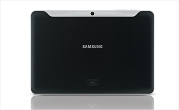 Samsung Galaxy Tab 10.1 official photos
Shortly after launch the Galaxy Tab 10.1 was blessed with a custom user experience, called Touch Wiz UX, which literally puts more color into Honeycomb, offers a good selection of customizable widgets and most importantly tries to ease your way into Android for tablets.
Yet this tablet's main advantage remains that it's the most portable 10" slate to hit the market. It's thinner even than iPad 2 and good 42 grams lighter than Apple's frontrunner, while still promising to match its battery performance. And that's no mean feat since tablets are going hard after netbooks, so they need to back their portability with battery longevity.
The Galaxy Tab 10.1 has a dual-core NVIDIA Tegra 2 processor, a bright 10.1" PLS TFT display of WXGA resolution, a premium set of connectivity options and plenty of storage space. Check out the full list of things going for (and against) the Galaxy Tab 10.1 3G below.
Key features
10.1" 16M-color PLS TFT capacitive touchscreen of WXGA (1280 x 800 pixels) resolution
Very lightweight at just 565 g
Thinnest slate to date at just 8.6 mm
Gorilla Glass display
Tegra 2 chipset: Dual-core 1GHz ARM Cortex-A9 processor; 1GB of RAM; ULP GeForce GPU
Android 3.1 Honeycomb with TouchWiz UX UI
Optional quad-band GPRS/EDGE and tri-band 3G with HSDPA 21 Mbps connectivity
16/32/64 GBGB of built-in memory
3.2 MP autofocus camera, 2048x1536 pixels, LED flash, geotagging
2.0 MP front-facing camera; video calls
720p HD video recording @ 30 fps
Wi-Fi 802.11 a/b/g/n Wi-Fi Direct, dual-band, Wi-Fi hotspot
Proprietary 30-pin connector port for charging
Stereo Bluetooth v3.0
HDMI TV-out (adapter required), USB host (adapter required)
Standard 3.5 mm audio jack
Flash 10.3 support
GPS with A-GPS support; digital compass
DivX/XviD support (fullHD), MP4 support up to HD
Accelerometer and proximity sensor; three-axis Gyroscope sensor
Polaris office document editor comes preinstalled
7000 mAh Li-Po rechargeable battery
Main disadvantages
Non-replaceable battery
No microSD card support
No standard USB port
No Android Honeycomb 3.2 yet
No GSM voice capabilities despite the available SIM slot

Samsung Galaxy Tab 10.1 at ours
Samsung are bringing their A game in the Galaxy Tab 10.1. Not that it should be judged by sheer size but the company's biggest tablet is fit to be in charge and meet the competition head on. Whether it's watching films, browsing the web, gaming, video-calls, or imaging, this is one of the best-equipped tablets out there.
The screen quality, the added TouchWiz UX functionality, the good battery and excellent media make it a must-see. The whole package looks like the right mix of style and substance, but we just won't rush to a verdict. The Galaxy Tab had a promising start in our preview. With all the finishing touches in place, it's ready to give its best. Head on past the break to see what the Galaxy Tab 10.1 is made of.
It's time for a better tablet - It's time to TAB
Samsung Galaxy Tab 10.1 gives you a better experience for work and play. Sharper HD quality screen, better web browsing with flash, better multitasking, and even better speed with HSPA+. More possibilities on the go.
Better Design
The new GALAXY Tab 10.1 offers a superlative experience with the thinnest and lightest large screen tablet available! Enjoy unmatched mobility thanks to the amazingly thin and light body. At just 565 grams and 8.6mm slim, this tablet is a breeze to handle.
Better Screen
High definition 10.1" display delivers excellent screen sharpness. With 1280 x 800 WXGA display boasting a pixel density of 149ppi (pixel per inch), you can enjoy better details. Movies, photos and programs with rich graphics will pop to life on the tablet's screen.
Better Home screen
Live panel : Live Panel is a customizable home screen experience, so content can be instantly accessed from the home screen including e-mail, image galleries, favorite Web sites and social network feeds. The beauty of Live Panel is that real-time data updates, arranged as you like, are constantly refreshed to be accessed by you at any time.
Better Imaging
The device also includes an 8 megapixel rear-facing camera with Auto Focus and a 2 megapixel front-facing camera which lets users capture experiences with the best-in-market full HD record and play as well as easily share them. With the Android browser and Flash 10.1, the Samsung GALAXY Tab 10.1 is the perfect tool for consuming the world of the internet content wherever you are.
The Ultimate Entertainment Experience
A 10.1" (WXGA TFT LCD) display with crystal clear resolution (1280 x 800) makes the Samsung GALAXY Tab 10.1 an unrivalled device for experiencing the hundreds of thousands of games and applications available from Android Market™. To compliment the amazing visual quality of the device, the GALAXY Tab 10.1 includes dual surround-sound speakers to immerse you even more fully.
Performance and Speed
Combined with the latest version of Android's tablet-optimized operating system, Honeycomb, Samsung has created a device that is powerful and lightning fast. The Samsung GALAXY Tab 10.1 includes a 1GHz Dual Core application processor, giving you the kind of fast and powerful multimedia and web browsing experience. Samsung Galaxy Tab 10.1's Dual Core processor, low power DDR2 memory and 6860mAh battery, make it perfect for task management in an energy efficient way.
Maximized Portability
At just 599g in weight and mere 10.9mm- slimness, the Galaxy Tab 10.1 is lighter, slimmer and more portable, meaning users are free to enjoy its many features while on the move. With the need to remain constantly connected, Samsung has also included super-fast HSPA+ 21Mbps, Bluetooth® 2.1+EDR and Wi-Fi 802.11 a/b/g/n connectivity to support rapid mobile download speeds and reduce data transfer times.
Better Multi-tasking
Mini Apps : You can be more efficient and productive by utilizing the Mini Apps, which is true multitasking feature. Mini Apps allows you to easily access commonly-used features such as calendar, PenMemo, World Clock, Calculator or Task Manager close at hand - to be launched as a pop up over full screen applications.
Better Web browsing
Browse without limitations! Thousands of top websites use rich Flash applications, so whether you're browsing the web or viewing online multimedia content, you'll be able to see it all with your GALAXY Tab 10.1 and Adobe® Flash® player support.
Better Speed
With both HSPA+ and WiFi access, you can be connected 24/7 wherever you are. Enjoy fast and stable connections to the internet for speedy browsing, downloads and more! Enjoy the best of the web from your table.
Better Reading
Readers Hub : Readers Hub gives you access to millions of book titles, thousands of newspapers and magazines in multiple languages. Digital reading functions such as zoom in/out, font enlargement and virtual bookmarks improve the e-reading experience. Enjoy text and images in sharp detail with large bright screen.
Better Music
Music Hub : Rock out, get groovy or relax to some easy listening. With the Music Hub, you'll be able to access an extensive catalog of popular and classic songs along with artist information, album art, critics' music reviews and more.
Better Communication
Social Hub : Social Hub is a powerful tool that allows you to easily manage and have real-time access to multiple email, instant messaging, and social networking accounts through one portal. You have two access points for simplified viewing through Message tab and Feeds tab, integrating message and web feeds into one easy-to-read flow.
Better Office
Polaris Office : Get your work done from anywhere. With preloaded Polaris Office, you can view, edit, and create various documents including PowerPoint, Word, and Excel. Clipboard allows you to store up to 20 text & images, so you can experience advanced cut and paste function like you do with PC.
Better Multimedia
Experience cinema magic with Full HD Playback on the glorious 10.1″ tablet screen. The dual speakers surrounding the screen create a surround sound effect that makes movie watching even more realistic.
Better Imaging
Enjoy having both front and rear-facing cameras built in on the tablet. Whether you need to video chat with a friend or a client, front camera offers great clarity. The rear camera allows you to capture the greatest photos and HD video right from your tablet.
Better Accessories
The right add-ons, such as Keyboard case or desktop dock, can help you get more out of the tablet experience. Whether it's using the tablet in more convenient ways or connecting to devices that expand the way the tablet can be used, these accessories will enhance the way you interact with your tablet.
The Latest AndroidTM Technology
Made for the tablet, AndroidTM 3.1 (Honeycomb) platform increases productivity by allowing you to perform different functions at the same time. View multiple panes in the same application, and browse the web just as you would on the PC. Also, the Android MarketTM offers a wide variety of apps for downloading.
An Entire Suite of Google Services
Do more with Google! Familiar applications including Google Talk™ video chat, Gmail™, Google Calendar™, Youtube™, Google Maps™, Google Latitude™, Google Places™, and Google Maps Navigation(Beta) work seamlessly on the Samsung Galaxy Tab 10.1.
Technical Specifications:
Android 3.0 (Honeycomb)
Dual surround sound speaker
HD recording and full HD playback
3MP AF rear-facing camera & 2MP front-facing camera
Google Services (Google Books, G-talk video chat, Gmail, Google calendar, Google maps, Google latitude ETC)
10.1 Flash support full browsing
A-GPS (Google Turn-by-turn Navigation Support
Network
HSPA+ 21Mbps 850/900/1900/2100
EDGE/GPRS 850/900/1800/1900
OS
Android 3.0 (Honeycomb)
Display
10.1" 1280 x 800 (WXGA) TFT
Processor
1GHz Dual Core application processor
Camera
Main(Rear): 3.0-Mega Pixel Camera AF with LED Flash
Front: 2.0-Mega Pixel Camera
Video
Format :MPEG4/H263/H264
Playback : 1080p FullHD Video @ 30fps
Recording : 1080p FullHD Video @ 24fps
Audio
MP3, AAC, AAC+, eAAC+, OGG, MIDI, AMR-NB/WB
3.5mm Ear Jack, Stereo Speaker
Value-added
Features Android Market™ for more applications and contents
Android UI / Android Browser
Google Mobile Service : Google™ Talk Video Chat, Google™ Maps, etc
Connectivity
Bluetooth® technology v 2.1 + EDR
USB 2.0 WiFi 802.11 (a/b/g/n)
Sensor
Gyroscope, Accelerometer, Digital Compass, Proximity
Memory
16GB/